THE BAND
---
KISS THE SKY can perform as a classic Power-Trio playing JIMI'S GREATEST HITS or as any combination of Jimi's bands from his 4 most iconic concerts.
Each member of the KISS THE SKY show is carefully picked to play the part in both look and sound of original musician in all Jimi Hendrix's projects from the Experience to the Band of Gypsys and Woodstock's Sun and Rainbows.
---
BIOS - THE EXPERIENCE SET MUSICIANS
---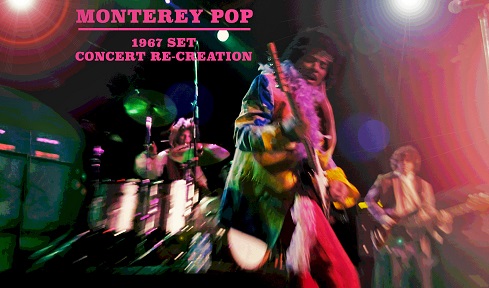 THE EXPERIENCE
In 1966 Jimi Hendrix went to London and combined with Noel Redding and Mitch Mitchell to form, The Experience. The original power-trio, The Experience are widely recognized as possibly the most influential band ever in the development of hard rock, psychedelic rock and even heavy metal. Jimi's fire burning guitar acrobatics made their live sets legendary and the music stands the test of time as well. All three of the band's studio albums, Are You Experienced (1967), Axis: Bold as Love (1967) and Electric Ladyland (1968), notched in the top 100 of Rolling Stone magazine's list of Greatest Albums of All-Time.
KISS THE SKY musicians are honored to re-create their classic music & stage shows such as the incredible classic MONTEREY POP performance of 1967!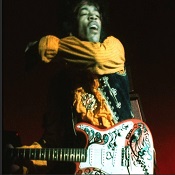 JIMI HENDRIX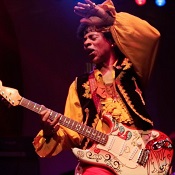 JIMY BLEU
Known for his high-energy performances showcasing both his mastery of guitar in playing proficiency as well as expert execution in athletic guitar wielding acrobatics, Jimy Bleu, has carried on the Hendrix tradition for over 45 years with the Voodoo Child Revue. He is thus, the longest running Hendrix tribute artist in the world.
Jimy Bleu actually met Jimi Hendrix in 1968 while at Warner/Reprise records and a member of the official Hendrix fan club that got Hendrix to address an assembly at his high school of the Performing Arts in NYC. The very next year at Woodstock, Bleu was thrown one of the guitar straps Hendrix used in that famous performance and through this direct musical lineage, Jimy Bleu has carried the figurative baton of the Jimi Hendrix guitar showmanship legacy ever since.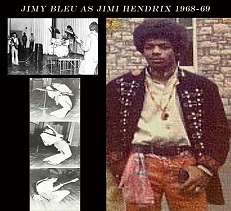 Jimy Bleu attended Berklee College of Music on the recommendation of Hendrix himself and went on to become a Columbia/Def Jam recording artist. He is an accomplished multi-instrumentalist in the studio, has performed in major venues across the globe including: MTV's Rock the vote tour, the Atlanta Pop Festival, on the BBC, for PBS and opened for rock music star acts like: Foghat, Aerosmith and Graham Central Station. Bleu even produced and starred in his own off broadway play on the life of Jimi Hendrix.
A Hendrix historian, Bleu has given lectures on radio, TV and college campuses about the musical, spiritual and political importance of Hendrix. His musical talents and Hendrix stage show expertise has even landed Bleu a touring member spot with former Jimi Hendrix bassist, Mr. Billy Cox's band ... The Band of Gypsys Experience! Like Jimi Hendrix...Jimy Bleu is also one of the only lefthanders in the guitar biz... bringing even more authenticity to the concert re-creations he now performs in...KISS THE SKY!
On JIMI HENDRIX:
"Jimi Hendrix was possibly the most electrifying performer of all time. It is obviously an honor and a challenge to play his part. I connect most strongly with his all out approach at the Monterey Pop concert when the Experience exploded onto the international music scene. I try to bring that same energy to every KTS show. His memory deserves it." – JB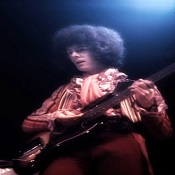 NOEL REDDING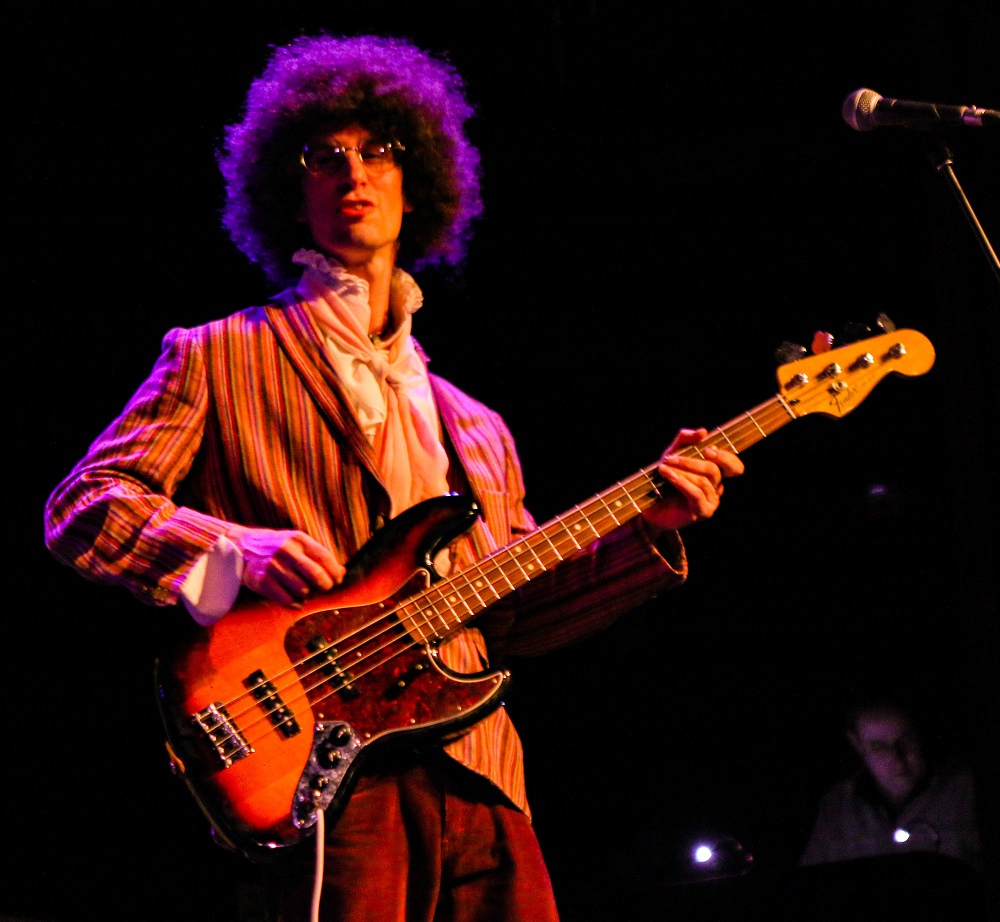 AJ HAGER
One of the most in demand blues/rock bassists in the country, Hager has been touring and recording professionally for over 20 years, performing with some of the all-time greats like: Levon Helm, John Mayall, Johnnie Johnson, Hubert Sumlin, Pinetop Perkins, Steady Rolli Bob Margolin, Coco Montoya, and more... From 1998 - 2007, AJ toured internationally with world-renown Blues guitarist, Debbie Davies (of Albert Collins & the IceBreakers fame). And along with guest stars like, James Cotton, Mick Taylor, Peter Green, & J. Geils, AJ can be heard on 3 of Debbie's CD's: Key to Love, Debbie Davies Live and Love the Game. AJ's current fav projects are touring with the John McNutt band, Victor Records Recording artist - Graham Alexander, Michael Allman & the Mile High Club, and of course playing as Noel Redding with KISS THE SKY."
On NOEL REDDING: "The Experience turned thematic world upside down. Their psychedelia groove would move you then pin you to the wall! Noel shined more as a live player. Having some tasty fills while holding down the power grooves for Jimi and Mitch to ride over top. That kind of playing can be underrated but is actually huge when considered for musics this was a ground breaking power-trio."– AH.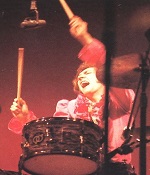 MITCH MITCHELL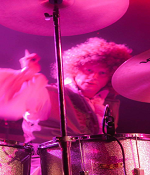 TED EDWARDS
Hailing from Long Island, NY, Ted Edwards has been a veteran presence on the NYC pro music circuit for over 25 years. Playing the part of Mitch Mitchell for Jimy Bleu's Voodo Child Revue for over 20 years, he also has performed with numerous top level tribute bands from NY to Florida including: Speed King (Deep Purple), Heavy Cream (Cream), Break On Through (Doors), Valhalla (Led Zep) as well as tributes to ELP, RUSH, GENESIS and more. Ted was also a member of the popular Woodstock tribute, Yasgurs Farm and has studied under legendary jazz drummers like: Joe Morello (Dave Brubeck), Kenwood Dennard (Jaco Pastorius/Sting) and Mike Clarke (Herbie Hancock) to name a few. Ted was a scholarship winner for drums and percussion to Edison State University and has also studied at NYC's Drummer's Collective.
On MITCH MITCHELL:
"Mitch Mitchell was a bonafide modern jazz drummer before becoming an iconic figure in the rock and roll drummers world. He represents a critical turning point in the evolution of pop/rock drumming. Always pushing the envelope of virtuosity and freedom to the highest levels with Hendrix while ushering in the dawn of Jazz/Rock fusion." – TE
---
BIOS - BAND OF GYPSYS SET MUSICIANS
---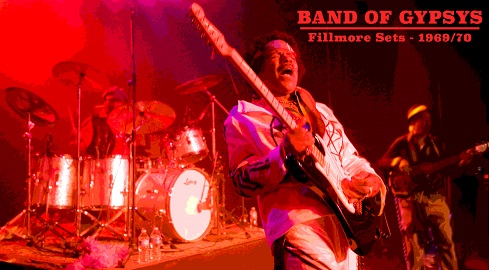 BAND OF GYPSYS
When Jimi Hendrix began exploring the funkier side of rock-&-roll he brought in the explosive rhythm section of Buddy Miles on drums and Billy Cox on bass to create, The BAND of GYPSYS. BoG was short lived but the music has survived to critical acclaim as some of the most impressive in Jimi's entire career. The Band of Gypsys Fillmore set recorded over New Year's eve 1969 into New Year's day 1970 still consistently ranks in top-10 lists as one of the greatest live shows in music history. KISS THE SKY musicians are proud to re-create this incredible set.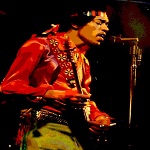 JIMI HENDRIX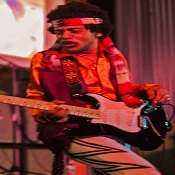 JIMY BLEU
"The Band of Gypsys represented a change in the music of Jimi Hendrix as well as his stage performance. Gone were his trademark guitar tricks replaced by a more intense introspective and incredible guitar sound. This is most evident on his anti-war anthem, the classic Machine Gun. It is an honor and a challenge that I look forward to each time I get to play this part in this show." – JB
See bio in Experience Set
BILLY COX
JAY POWERZ
Jay Powerz is a bass player, vocalist, DJ, composer and producer whose diverse style highlights and intertwines elements of Hip Hip, Funk, Jazz, Blues, Metal, Rock, Reggae and alternative music.
As a bassist he has toured internationally with Grammy winners Digable Planets and Hip-Hop Legends Camp Lo. In the studio, Powerz has collaborated on productions with vocalist Jaguar Wright and famed Hip Hop artist, Cee Knowledge. In 2013, Powerz, together with Ben Arsenal, helped form the WORLDTOWN SOUND SYSTEM – A high energy electronic live music experience fused with organic instruments that has become a movement in the Philly music scene and Powerz main touring project. Powerz also continues to contribute to the Philadelphia music community with a popular weekly songwriting studio workshop he founded with Gary Dann called THE BOOM ROOM'S MUSICAL CHURCH.
On BILLY COX:
"Billy Cox played the most intricate and funky bass lines in the entire Hendrix catalog and went on to become a legendary Nashville studio session bassist and still tours regularly as the leader of the Experience Hendrix tour and his own, Band of Gypsys Experience. He is the 'Last Gypsy Standing' and it's an honor to play his part."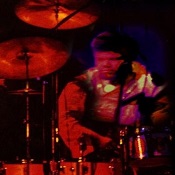 BUDDY MILES
JAMES JAXON
Hailing from Trenton, NJ – James Jackson takes on the arduous task of playing Buddy Miles, singing and drumming for the Band of Gypsys set in the show. Jackson was a 1983 member of North Carolina A&T Marching band, including 1983-85 with the Mighty Majors show band in Greensboro, NC. After college, Jackson toured with the Racous Brothers Reggae Band for over 10 years. Jackson has become an in-demand NY/Tri-State area musician for live and recording vocals, drumming and percussion for over 15 years.
Playing consistently with such top local talent as the Ragamuffins Reggae band and the EBE band, 'Jax' was a regular performing artist for the Barcelona's corporate and wedding band entertainers company and played Buddy Miles for Hendrix Tributes, AXIS and BOLD AS LOVE. Jax has also performed, toured and/or recorded with noted artists like bluesman "Big" Jack Johnson, guitarist Tino Gonzalez, Kool & The Gang's Clifford Adams and Michael Ray and Billy Joel sax man, Richie Canatta.
On BUDDY MILES:
"Buddy Miles was already a star in his own right with Electric Flag and would go on to score hits as the lead singer with Santana and as a solo artist/ writer/ singer/ composer in the 1970s. He played a critical part in the development of funk-rock music both with and beyond the Band of Gypsys. That is why I'm proud to play the part!" – JJ
---
BIOS - THE WOODSTOCK SET MUSICIANS
---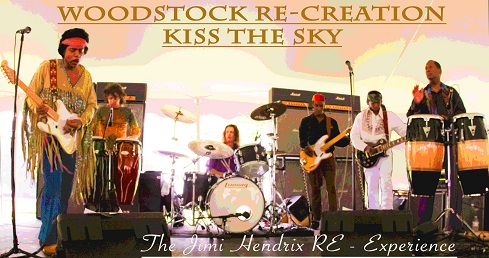 SUN AND RAINBOWS – WOODSTOCK SET BAND
Woodstock 1969 – the most famous concert in history and Jimi Hendrix was the head-liner! Jimi's performance at Woodstock was none other than epic. Even though he had a new 6-piece band, The Sun & Rainbows, Jimi stole or consumed the spotlight. His incredible version of the Star Spangled Banner alone made music history. Hendrix was also experimenting with his sound at that time, adding the African beats of Juma Sultan and Latino percussion of Jerry Velez and R&B guitar backing of Larry Lee, all talents who went on to have great music careers.
KISS THE SKY performers are excited to tribute these great musicians from Jimi's Woodstock band who often don't get enough credit.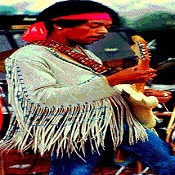 JIMI HENDRIX
JIMY BLEU
"There has never been a Jimi tribute that actually used a full six-piece band to reconstruct the woodstock concert. This is epic and I am excited to perform it." – JB
See bio in Experience Set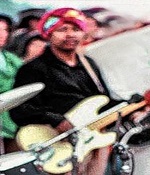 BILLY COX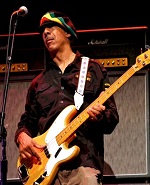 BRETT JOLLY
In addition to being a music producer and composer, Brett Jolly happens to be one of the top professional live and recording session bassists in the world. Originally a bassist for super-star Teddy Pendergrass, the list of performers whom Jolly has backed or collaborated with throughout his entire career has become a 'who's who' in all musical genres: Patti Labelle, Aretha Franklin, Janet Jackson, Bonnie Raitt, Olivia Newton John, Ashanti, Earth Wind & Fire, The OJays, Ashford & Simpson and more.
Jolly produced his own solo CD, Bridges, in 2010, is the host of "Jolly-Jam", a popular Weekly Philadelphia Open Mic show and remains consistently in demand for both studio and live performance work.
On BILLY COX:
"Jimi Hendrix wrote some of the greatest songs in rock and roll history. Beyond his guitar playing, he wrote many of the bass lines with Billy Cox as well which are both challenging and inspiring to me as a musician. It's a blast to delve into Billy Cox's groove that he brought to Jimi's music and of course the Band of Gypsys. On his own, Billy became a renown Nashville session musician and has recorded and toured with all the Blues and R&B greats… Wilson Pickett, Freddie King, Charles Brown, Joe Henderson and on and on…Billy Cox is a Living Legend! The Last Gypsy Standing!" – BJ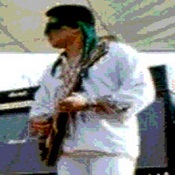 LARRY LEE
MIKE TYLER
Mike Tyler's guitar work has been a major force in the music scene since the mid-80's! Working for W.M.O.T., Philly World, and Sigma Sound before becoming one of the founding fathers of Ruff House Records, Mike was an in-house musician and producer at the label from its start to its demise. Participating on almost every release, his guitar work was also on all of Joe 'the Butcher' Nicolo's remixes of numerous artists ranging from: The Rolling Stones, to Aerosmith, Mariah Carey, Billy Joel, James Taylor, Taj Mahal, and others.
As a signed musician to the Elektra Record label, Tyler recorded with "Pops" Cool Love, toured Europe as a support act for Fishbone, Henry Rollins, and the Beastie Boys. In a moment of music history, Mike was the musical director and guitarist in 1991 for the first M.T.V. Raps Unplugged feat. L.L. Cool J., A Tribe Called Quest, MC Lyte and De La Soul. Tyler has since shared the stage with artists spanning from George Clinton to G-Love and Special Sauce to Pearl Jam. And he remains a force in the studio with many projects such as: playing on Nas' Illmatic to being a co-writer for Michael Franti's group "Spearhead's" first two releases and even recently has produced his own first solo CD…Finally!
On LARRY LEE:
"Jimi Hendrix has been a major musical influence in my life but I'm actually even happier in this project to portray Larry Lee's part at Woodstock. Lee often is overlooked and yet he was a great R&B guitarist, eventually becoming the musical director and lead guitarist for Al Green." – MT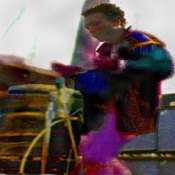 JUMA SULTAN
PIERRE NIX
Pierre Nix is a producer, songwriter, vocalist and hand percussionist. As a percussionist, he studies music of the African and Latin Diaspora under the world-traveled master percussionist and rhythm speaker, Jan Jeffries.
Pierre studied Sound recording at Philadelphia Community College and is a graduate of Cheyney University. A member of the Philadelphia-based alt-funk band "Mixed People," the band was nominated in 2014 as "Best Live Band in Philly" by Urban Celebrity Magazine's Hip Hop Awards and is listed as one of the "Top Funk Bands in Philly" on CBSPhilly.com.
On JUMA SULTAN:
"Juma Sultan is a master of African beats whose music and career is truly inspirational. He went on from Jimi to do a lot of Avant-Garde Jazz work with the likes of Archie Shepp, Noah Howard, & Sonny Simmons and formed the Aboriginal Music Society. His Afro-Centric stlyle meshing into the 1970's Free Jazz music world was completely innovative.. I look forward to playing his part."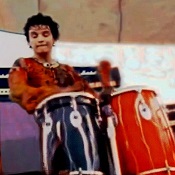 JERRY VELEZ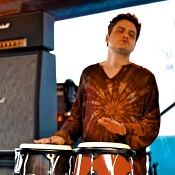 ROB GIGLIO
Rob Giglio is a true showman, ham and monster drummer playing for some of the top recording and live touring Punk-Rock, Metal and Glam Bands in the Philly Circuit for over 20 years such as Mothra, Beretta 76 and Creem Circus.
Rob Giglio brings his performance power to the Congas and percussion for KISS THE SKY! The Temple U grad is one of the most fun people to be around, keeping things loose and not too serious. He mentions his main drumming influence as Animal from the Muppets.
On JERRY VELEZ:
"To be real for a minute, Gerardo Velez went on from Woodstock to become one of the top Latin Rhythm percussionists in the world, playing with everyone from Elton John to David Bowie to Chic, Stevie Wonder, Destiny's Child, Stevie Nicks, Chaka Khan, Marc Anthony and countless others. He was even a founding member of best selling jazz fusion group of all-time, Spyro Gyra. So yeah… I have fun but it's a truly great musician I get to represent in this show." – RB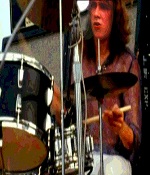 MITCH MITCHELL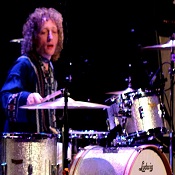 JOHN HUMMEL
While John's main gig is drumming for the award winning, Matt O'Ree band, he is also a veteran session musician playing live performances and doing studio work in the NY/NJ metro area for various projects. With the Matt O'Ree band, John has opened for rock legends like Paul Rodgers, Deep Purple and Lynyrd Skynyrd and his drumming talent has been honored numerous times with performance invites to the annual all-star drummer's BONZO BASH for late Led Zeppelin great John Bonham.
John has toured throughout the USA, South America and Europe and recorded with numerous artists such as: Matt O'Ree (Bon Jovi), Amfibian (Tom Marshall), Anthony Krizan (Spin Doctors), Neal Casal (Ryan Adams and the Cardinals), John Ginty (Citizen Cope), CC Coletti (Meatloaf) and Lady Gaga.
On MITCH MITCHELL:
"Mitch Mitchell's jazz influence to Jimi's music is well documented although his overall contributions to rock music are somewhat under-rated. Even more so was his on-stage flair. He was a skilled musician that also had great stage presence to match perfectly with Jimi in making the Experience a visual and sonic force." – JH